Our Next Science Café:
Tuesday, May 5, 2022, 7.00pm, Community Lecture at Fargo Theatre, Downtown, Fargo, ND
Presenter: Kate Adamala McKnight Land Grant Assistant Professor of Genetics, Cell Biology and Development, University of Minnesota, MN

Title: LIFE BUT NOT ALIVE
Abstract: Building live cells from scratch, from non-living components, will soon become a reality. Constructing synthetic cells, precisely manipulating molecules and designing all biological processes, will give us unprecedented control over living systems. And on the way to engineering organisms from simpler building blocks, we are learning more about how our life works. Synthetic cells find many uses in basic research, as well as biomedical and technology applications. Building cells allows us to address fundamental questions about the nature of life, investigating history of life on Earth and elsewhere in the Universe. We are developing new biocomputing solutions, moving towards building a living computer and electronics interfacing with natural tissues. We investigate complex natural processes on biochemical, cellular and population levels, and we are testing all basic assumptions made by biologists from the beginning of science. Synthetic cells can be used for personalized medicine: reconstructing patient's specific mutations in each synthetic cell sample and testing drugs for that very specific variant of the disease. More extreme medical applications are also possible: treating astronauts during long term space missions with drugs custom made in specifically designed synthetic cells, of growing nutrient-dense food in space. Synthetic cells offer the new frontier in science: with the ability to fully control every aspect of living cell, we can move beyond messy natural biology and change our understanding of life.
Short CV: Kate Adamala is a biochemist building synthetic cells. Her research aims at understanding chemical principles of biology, using artificial cells to create new tools for bioengineering, drug development, and basic research. Her work spans questions from the origin and earliest evolution of life, using synthetic biology to colonize space, to the future of biotechnology and medicine. Kate is a co-founder of the synthetic cell therapeutics startup Synlife, and one of the leaders of the Build-a-Cell synthetic cell community.
Lab info: protobiology.org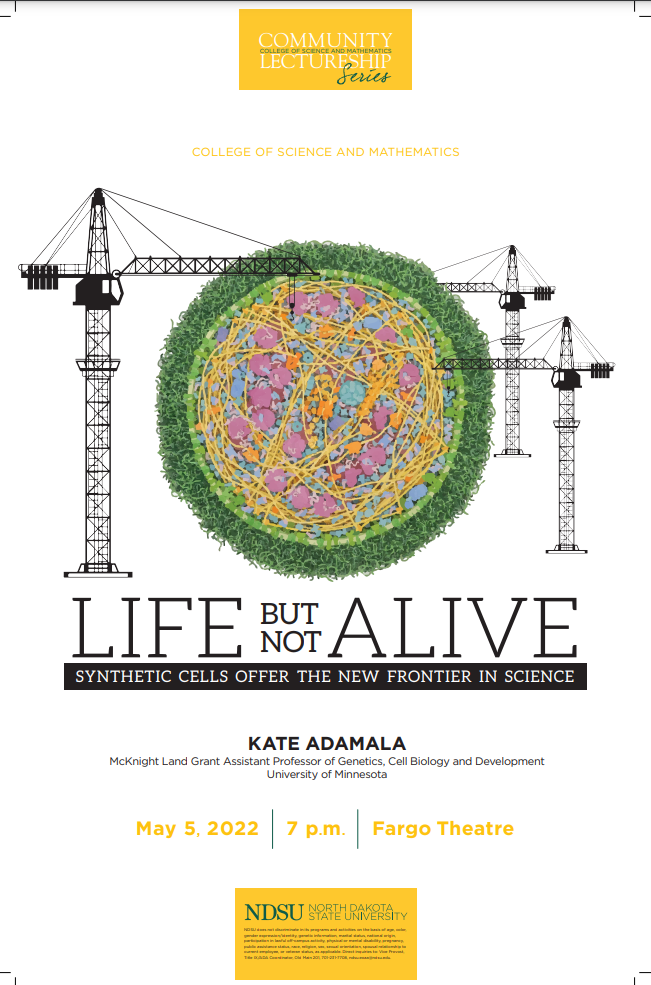 General Information
Our Science Cafés feature
A presentation by a scientist
Discussion

have a conversation with the scientist
talk among yourselves
Free and open to the public.
Attendees must be 21 or older, or accompanied by a parent or guardian.
For more information, contact Diane Goede at Diane.Goede@ndsu.edu or (701) 231-7411.
Science Café presentations are about one hour long; there is some extra time for discussions. The location is:

Community Lecture will be at FARGO THEATRE, Downtown, Fargo, ND


WILD TERRA CIDER
Wild Terra Cider
6 12th St N
Fargo
North Dakota