Our Next Science Café:
Tuesday, November 9, 2021, 6.30pm at WILD TERRA CIDER, 6 12th St N, Fargo, ND 58102
Presenter: Dr. Bong-Jin Choi Assistant Professor, Department of Statistics and Department of Public Health, North Dakota State University

Big HealthCare Data: WHEN, HOW and WHAT
Abstract: The term "Big Data" came to us since 1970. We can see "Big data" in most places, such as data storage, health care data, security, customer behavior. Also, google, bing, yahoo, amazon, etc. When we use computers such as for searching the internet, emailing, shopping, chatting, and video calling, all our information can be collected by a software program. The automated bot can collect all the information and save the information into their data storage, and it became the BIG DATA. All the data are linked to each other. However, health care data is different. Each facility can't share their patient information with each other because they have their own rules to save data, and privacy is considered. I will talk about WHEN the big health care data came, HOW they built, and WHAT we can do using the big health care data.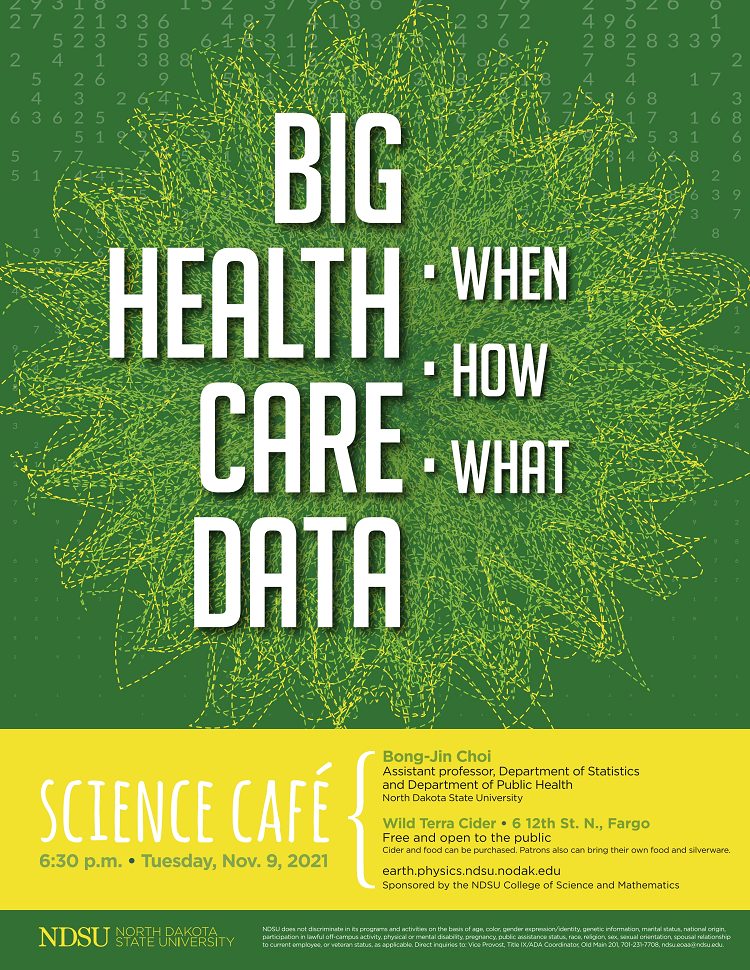 General Information
Our Science Cafés feature
A presentation by a scientist
Discussion

have a conversation with the scientist
talk among yourselves
Free and open to the public.
Attendees must be 21 or older, or accompanied by a parent or guardian.
For more information, contact Diane Goede at Diane.Goede@ndsu.edu or (701) 231-7411.
Science Café presentations are about one hour long; there is some extra time for discussions. The location is: