Our Next Science Café:
Tuesday, October 12, 2021, 7pm at WILD TERRA CIDER, 6 12th St N, Fargo, ND 58102
Presenter: Dr. Dane Skow Executive Director, Center for Computationally Assisted Science and Technology, North Dakota State University

A Brush with Quantum Computing
Abstract: What IS quantum computing and why is it different? Afterall, transistors only work because of quantum mechanics in the first place; so what's the big deal? We will explore this new landscape, painting with the big brush, so no calculus required... The word of the day is "entanglement" and the strange reality of the quantum world immortalized with Schroedinger's Cat. The binary math of normal computers gives way to linear algebra of complex numbers for quantum computing. Come join us as we discuss this and other unique features of quantum computing at the October 12th Science Cafe.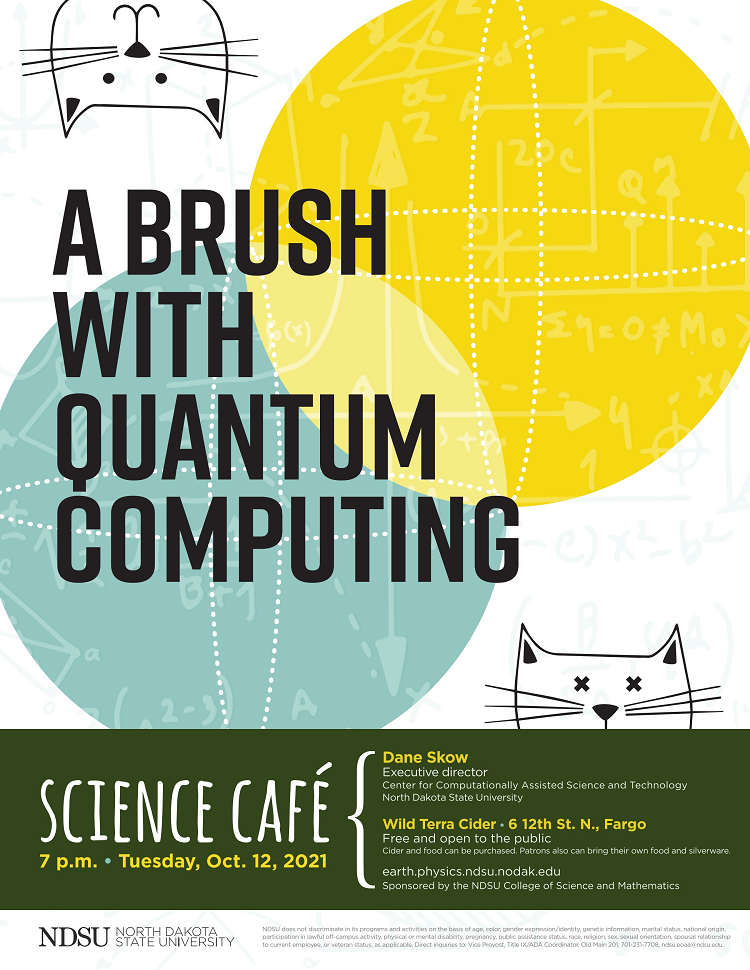 General Information
Our Science Cafés feature
A presentation by a scientist
Discussion

have a conversation with the scientist
talk among yourselves
Free and open to the public.
Attendees must be 21 or older, or accompanied by a parent or guardian.
For more information, contact Diane Goede at Diane.Goede@ndsu.edu or (701) 231-7411.
Science Café presentations are about one hour long; there is some extra time for discussions. The location is: