Our Next Science Café:
November 12, 2019, 7pm at Stoker's Basement, Hotel Donaldson
Presenter: Andrea Cecchin Department of Plant Sciences, North Dakota State University
Department of Earth System Science & Policy, University of North Dakota

The Future is Circular: On the Circular Economy and the Promise of a Sustainable Development
Abstract: Around 2 billion people worldwide live in countries that actively promote the principles of circular economy. But, what is Circular Economy? The Circular Economy proposes a radical change in the current production and consumption systems, by minimizing the need for raw materials and non-renewable sources of energy, while drastically reducing the generation of waste. How does circular economy work? How do we make our products and services more circular? Will Circular Economy be able to change the way we make and use products in the US in a more sustainable way? These questions will be explored during the talk, and a particular emphasis will be given to examining the relationship between circular economy and sustainable development.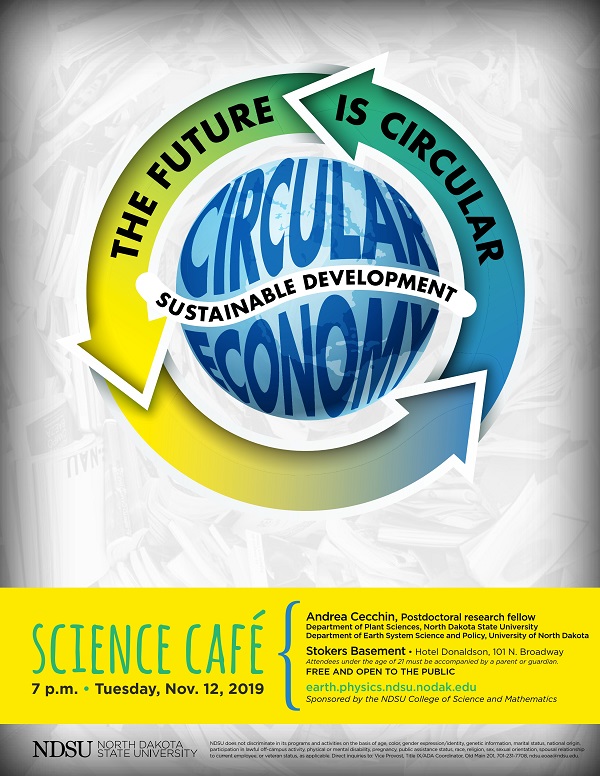 General Information
Our Science Cafés feature
A presentation by a scientist
Discussion

have a conversation with the scientist
talk among yourselves
Free and open to the public.
Attendees must be 21 or older, or accompanied by a parent or guardian.
For more information, contact Diane Goede at Diane.Goede@ndsu.edu or (701) 231-7411.
Science Café presentations are about one hour long; there is some extra time for discussions. The location is: